Wood defects
The main disadvantage of wooden terrace is the necessity of regular and demanding maintenance, which keeps wood resistant to wood decaying insects, mold and weather conditions. Regular and high quality maintenance is also financially demanding.
Wooden terrace can be possibly purchased for lower price comparing to WPC composite material however the costs are equalizing after few years and more importantly the quality of the wooden terrace is getting incomparably worse. Woodlook™ is an ideal combination of long lasting and maintenance-free material with the appearance and feel of the real wood. It is resistant to wood decaying insects and mold and doesn't require seasonal maintenance. Wood fractions and splinters can cause you an injury. However standard composite Woodlook™ material is made from 60% of (Woodlook™ HT – 70%) high fraction wood flour which eliminates presence of splinters.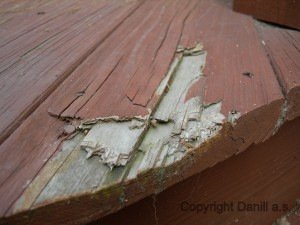 Wooden terraces have to be regularly treated with waterproof and other preservatives. Alkyd, acrylic, polyurethane or oil-based paints needs to be used to protect wood against UV radiation, rain and dust particles. If the protection is not sufficient enough wood drying occurs and cracks in which waters settle and creates great environment for mold and fungi which finally leads to wood destruction after 12 -18 months. Splinters and fractions are created which are decreasing the overall comfort and usage of the terrace. These splinters can cause you injury during the barefoot walk. This risk is present even if the regular maintenance is complied.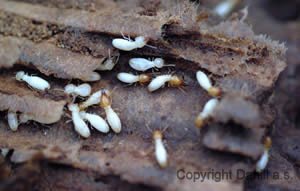 There is always a risk that wooden terrace can be damaged by wood decaying insects. Wooden terraces are being protected against it by applying pressure impregnation. Pressure impregnation protects wood against wood decaying insects and fungi, soft rot and weather conditions. Chemical impregnation based on organometallic and inorganic compounds of copper and boron are being used for wood treatment however these chemicals have negative impact on the environment. Most importantly even this protection is not guaranteed for 100%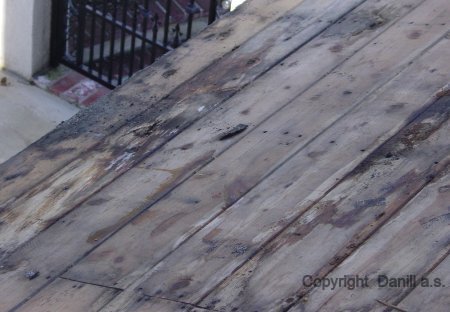 Black stains can occur on wooden terraces which are caused by the metallic parts used for installation and assembly