WPC defects
New manufacturers and WPC suppliers are entering the market regularly. Most of the time the products have unknown origin and quality. The reason is consistently growing demand. The brand a the quality of the manufacturer can always be the decisive criterion while purchasing terraces and cladding made from WPC material.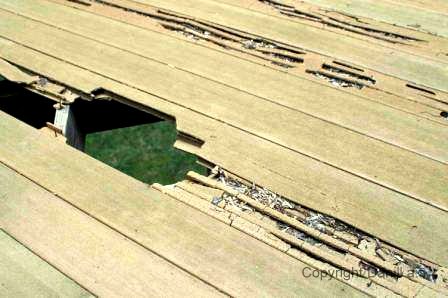 (Sparse mixture profile, porosity, poor stability)
One of the most important factors when choosing WPC products is the composition itself. Usually they are made from 50-60% of wood, 30% plastic and the remaining 5-10% are UV stabilizers, colorants and additives when talking about high quality product.
If polypropylene (PP) is used as a polymer in the production process the planks become more brittle at low and freezing temperatures the degradation of the material itself occurs. The plank is weakened which results in material degradation and destruction of the plank. Therefore some manufacturers use polyvinyl chloride (PVC) as a polymer, which is known to excrete harmful phthalates when exposed to sun rays. That is why Woodlook planks are made from ecological and recyclable high-density polyethylene (HDPE), which is harmless to health and our laboratory test haven´t shown any physical or chemical changes.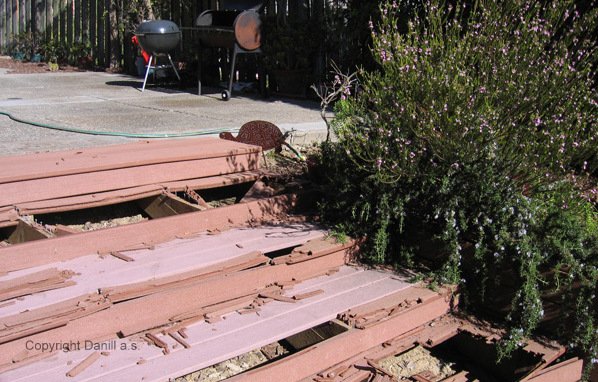 (Sparse mixture profile, porosity, poor stability)

(Low quality extruding – uneven mixture density)
Many other manufacturers use soft wood sawdust with higher fractions - even more than 2 mm, which except the "chipboard" appearance results in more visible graying of these fractions caused by UV radiation. Usage of such sawdust can lead to cracks in temperatures below zero. It is caused by natural wood absorbability.
It is not easy to recognize high quality WPC planks and high price can never be the proof. Usage of the same Hydraulic injection presses produces the products of the same shape however the identical appearance never reveals the details of the mixture composition. This is something you can reveal after years of usage. The best and the easiest way how to get to know more about the quality is to look at the company history. Many years of experience should be sufficient for quality assurance.

(Low quality extruding – uneven mixture density)